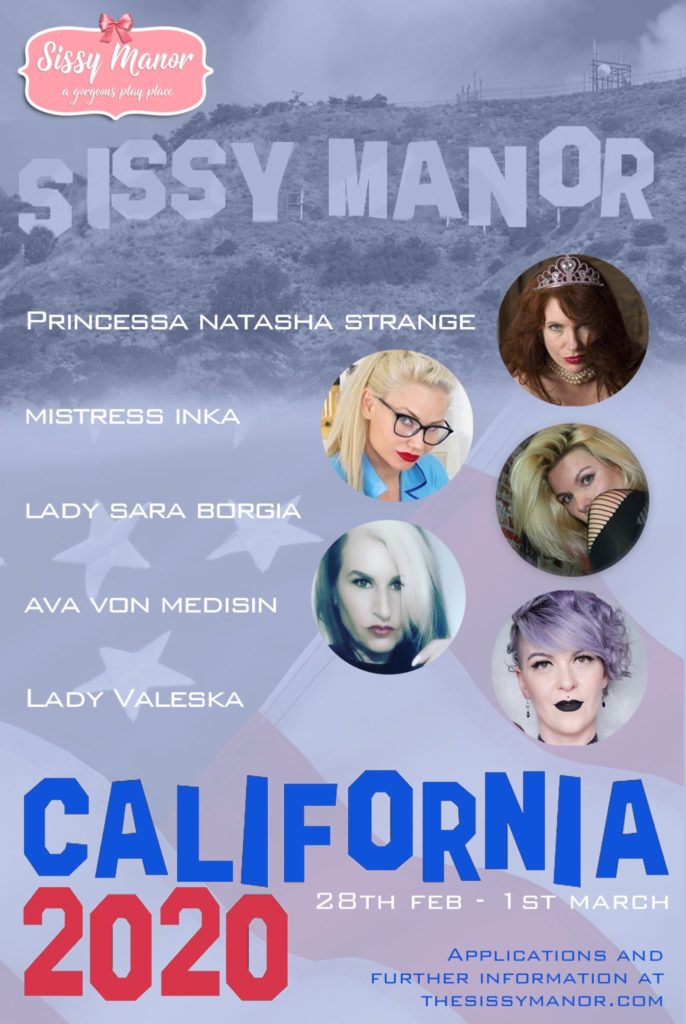 28th Feb – 1st March 2020
After the Tremendous success from our first event in the USA, we decided to make it an Annual event!
Therefore, we are proud to Announce that the next Sissy Manor in the USA will be held in the Stunning State of California.
Over the weekend of 28th Feb – 1st March 2020, you will have to opportunity to spend an entire Day or Weekend, being Sissified, Humiliated, Disciplined and Serving the Finest Dominatrices in the World.
The gorgeous property which is situated in Southern California within easy reach of LA and San Diego.
The Property is a Huge Detached property which is very private and Secluded.
There is plenty of Indoor and Outdoor Space where the Sissies will be able to Serve and take plenty of Discipline from the Ladies of the Manor.
There are fabulous transport links, and for those that are travelling from further away, there are a selection of Airports nearby.
Lady Valeska, Ms Inka, Ava Von Medisin, Ms Natasha Strange, Lady Sara Borgia & Ms Lila will transform you from the ordinary mortal into a Beautiful prissy pretty sissy.
With Tonnes of Outfits, Make-up and Equipment. This is the Only place you need to Retreat to if your a Sissy.
Whether your a Novice or Full time Sissy, we are here to transform and train you into becoming the most gorgeous and well trained sissies you can be.
The Ladies of the House are all Professional Dominatrices and have many years of Experience within this field, so you better not be a naughty Sissy, or you might go home with a Sore Ass!
The Price for the Event (Each Day) is $700 ($200 Deposit) per Sissy/AB and includes all of the Makeup, Outfits, Transformation, Kinky Play and Much Much More. The event lasts typically 5-6 Hours.
For a Lucky Few, there will be an oppertunity to stay all weekend and take part in all the Events and also stay overnight. The Price for this is $2500 ($1000 Deposit) which includes all the above on the single day event (2 days & 2 nights).
There will be a Photographer there if you want to be in front of the Lens and also a Professional make up artist to make your skin shine!
*Don't worry if you don't want your picture taken, we respect the discretion of all our clients.

Knock the Door, and Dare to Come in..
x Sissy Manor x