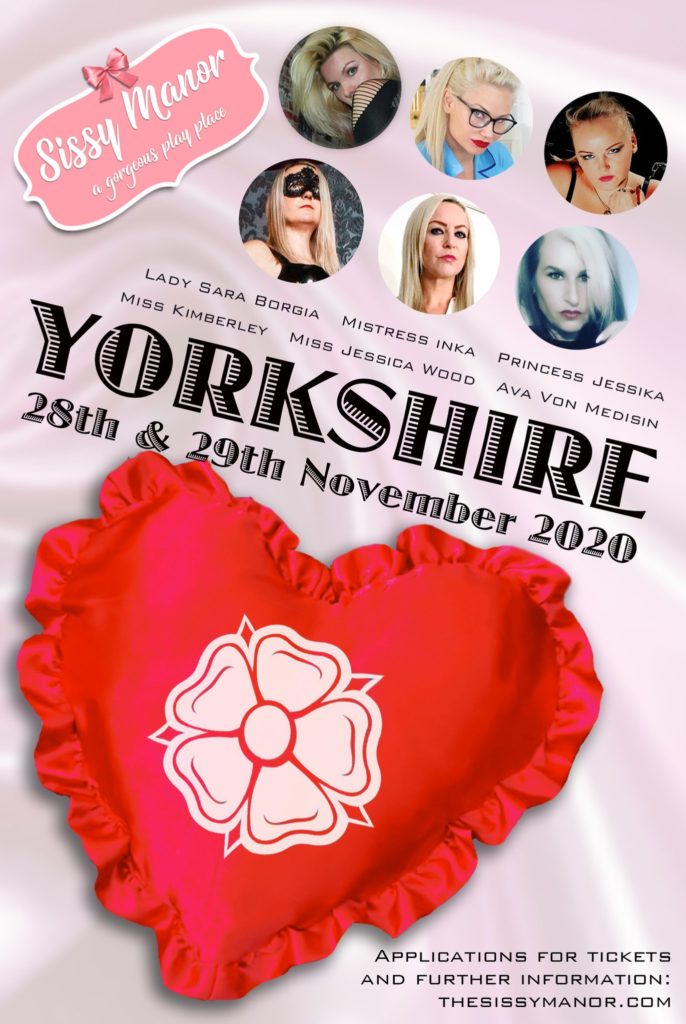 28th – 29th November 2020
Due to our Summer Sissy Manor Event being rescheduled.. We are now delighted to confirm our new date.
The event will be held in a Gorgeous Manor House in the Wonderfully Beautiful county of Yorkshire, in the UK.
On Saturday 28th November till Sunday 29th November Morning, you will have to opportunity to spend the Day & Night being Sissified, Humiliated, Disciplined and Serving the Finest Dominatrices in the World.
During the day there will be lots of Sissy Fun with lots of Hilarious and Kinky Twists along with the Sissy Manor Favourite Games, followed by a nice Dinner in the evening (Overnight Package).
After gorging on the wonderful food, there will be many more kinky games and the ability to have a nice drink and relax in the company of your Ladies.
Those that choose to stay overnight will of course have quarters to sleep which will be comfortable and warm, unless your naughty!
The Ladies in Charge of all you Sissies, are the Finest Dominatrices in the World. Collectively they have Hundreds of Thousands of followers and Admirers.
There experience of Transformation and Sissification is World Class. You are in Safe and Caring hands (unless you are naughty).
The Ladies in attendance are Ms Ava Von Medisin, Lady Sara Borgia, Princess Jessika, Mistress Inka . Miss Kimberley & Miss Jessica Wood
Don't Have a Special Sissy outfit, to bring with you?
There's no need to worry!
We have the finest Prissy Sissy Dresses and Lingerie in a range of materials such as Satin and PVC for you to mince around in, not to mention some very frothy petticoats!
Dont bend over too far sissy, or people might see your frilly panties!
As for make up, we could open a range of cosmetic stores! So every single one of you will be transformed by the Ladies from Boring Male into a Beautiful Sissy Flower!
After all the fun and frolics you will never want to leave, however Dont Dispair! As our Resident Professional Photographer will be on hand to make sure your precious memories are on film (Should you want your Picture/Video taken).
So what is the cost for this Fabulous Event I hear you ask?
Well there are 2 options to choose from!
Option 1: Saturday 28th November (Daytime only 1200-1700) – Includes Transformation, Games & Pictures. £700.00 (£350.00 Deposit)
Option 2: VIP Day and Overnight Package Sat 28th November – Sun 29th November. (1200-0800) – Includes Transformation, Games, Pictures, Dinner & Evening Activities plus overnight sleeping. £1000.00 (£500.00 Deposit)
All deposits are required to secure your place and the full amount can be paid nearer to the event.
To Book your place to this fabulous event, please fill in the Booking Form by Clicking Here.
Make sure you select the option you want!
We hope to see you soon Sissy!

Knock the Door, and Dare to Come in..
x Sissy Manor x